Fentanyl & Opioid Use Treatment
Fentanyl & Opioid Use Treatment
CODAC offers specialized treatment for people who want to stop using opioids such as fentanyl, heroin, morphine, Oxycontin and other prescription pain medications.
The treatment begins with an assessment and starting you on appropriate FDA-approved medications to address short-term needs – such as painful withdrawal symptoms and cravings – and lead you into long-term recovery. Learn more about the medications.
Start Treatment for Fentanyl, Heroin or other Opioid Use
CODAC's outpatient drug and alcohol treatment intake is available 24/7 – days, nights, weekends and holidays.
We're easy to find at 380 E. Fort Lowell Road in Tucson (Bus Route 34).
Call us 24/7 at (520) 202-1792.
Come as you are, day or night.
You don't need to be in complete withdrawal.
Your personal information is kept confidential.
If you don't have a personal ID, we'll help you get one.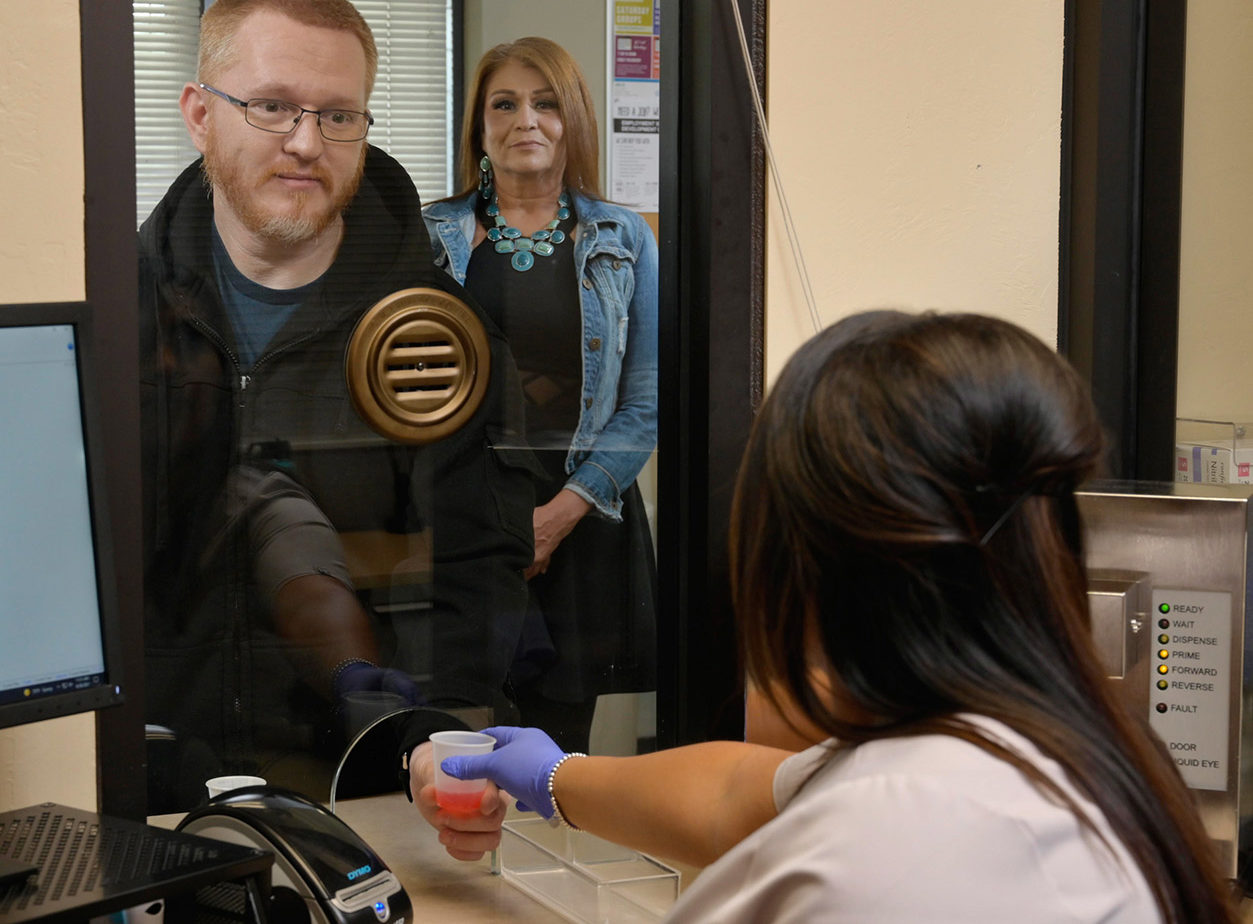 Frequently Asked Questions
When is the soonest I can get started?
CODAC is open 24 hours a day, seven days a week for anyone who wants to start treatment for drug or alcohol use. Our outpatient clinic is open every day, evening, night and weekend.
Call us now at (520) 202-1792
Or come in to 380 E. Ft. Lowell Rd., Tucson, AZ 85705
Why Use Medication for Opioid Use Disorder Treatment?
Addiction to opioids can lead to physical changes in the brain, changing the circuits responsible for mood, pleasure and reward responses. After the body has become dependent on an opioid, it can be very painful to live without it (withdrawal).
Approved and prescribed medications help by replacing the opioid with a legal substitute (which is monitored closely by medical professionals). This helps lower the physical need for illicit opioids so a person can function normally.
Will I have to be on Methadone or Suboxone forever?
Each individual's treatment plan is unique and depends on a variety of factors. At CODAC, we believe medication assisted treatment is only one part of recovery and it does not need to be a lifelong treatment.
Long-Term Detoxification Treatment (31 to 180 Days) — Long-term detoxification treatment focuses on methadone medication treatment with a monitored regimen of daily dosing. Patients are regularly monitored and tapered off methadone within 180 days. Members are expected to attend therapy and support groups to enhance their recovery.
Methadone Maintenance Treatment (12+ Months) — Methadone Maintenance Treatment can last from weeks to years depending on the individual. People in Methadone Maintenance Treatment should be stable with their dose. Members will continue to meet with therapists, recovery coaches, and peer support specialists and attend groups. The focus during this period is counseling, relapse prevention and harm reduction.
Do you have treatment programs for pregnant & postpartum women?
Yes! CODAC is experienced in providing the safest solutions for pregnant and postpartum women with opioid use disorders. With many options available at CODAC, we're best prepared to offer pregnant women the best treatment that's safest for them and the child they're carrying.
I used fentanyl, meth and heroin for eight years. I had at least seven overdoses. I was very much gambling with my life. I went to CODAC and finished methadone treatment within two years. I have now been sober for four years.
- AJ
Methadone
Methadone is a long-acting artificial morphine substitute. It lessens the painful symptoms of withdrawal and blocks the effects of opioids. An adequate dose of methadone is effective for 24 hours or longer.
It has been found that when prescribed with therapy and other supportive services, methadone used in place of heroin, morphine, oxycontin and other opioids produces positive changes in motivation and social functioning.
At CODAC, methadone is provided in liquid form on a daily basis. It is given by Licensed Practical Nurses.
Buprenorphine (Subutex)
Buprenorphine (Subutex) is a semi-synthetic opioid. It lasts more than 24 hours and is, therefore, prescribed to be taken once a day. Buprenorphine causes less respiratory depression than other opioids, which results in less chance of overdose or death. And, the effect of other opioids while taking buprenorphine is considerably diminished.
This medication helps a patient feel normal, not high.
Suboxone (Buprenorphine + Naloxone)
Suboxone is a prescription medication made up of buprenorphine and naloxone. By adding naloxone to buprenorphine, the body does not experience any high feeling.
Like the other medications, it is used to treat opioid addiction under the direction of a doctor and alongside therapy and other structured support. Suboxone is intended to be a short-term treatment.
Individuals typically only use suboxone for one year or less.
Naltrexone (Vivitrol or ReVia)
Naltrexone is another opioid antagonist medication that is used in opioid use treatment to prevent the euphoric effects and reduce cravings. It is also used to treat alcohol use/abuse. Naltrexone comes in pill and injection forms. Members need to be free from opioids for a minimum of 7-10 days before starting naltrexone.
Vivitrol is a long-acting injection. ReVia is an immediate release pill taken orally.