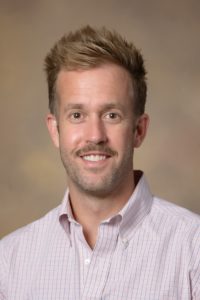 CODAC Health, Recovery & Wellness is pleased to announce the newest addition to its dedicated medical leadership, Mark Grant, MD, Associate Director of Addiction Services.
Dr. Grant is responsible for providing high-quality care to members within CODAC's 24/4 Center of Excellence, a leading outpatient and medication assisted treatment program for individuals in recovery from substance use disorders. His career and education are driven by a deep-rooted passion for serving under-represented populations.
During his Family Medicine Residency at the University of Arizona South Campus, he honed his skills and discovered his calling in addressing the unique healthcare needs of people living with substance use disorders. He witnessed the profound impact addiction has on patients in the Tucson community, which motivated him to pursue a fellowship in addiction medicine.
"I felt equipped with the skills necessary to help keep patients alive yet felt powerless at the end of clinic appointments or upon hospital discharge, knowing how unfairly the deck was stacked against my patients with substance use disorders," said Dr. Grant.
"In pursuing a fellowship in addiction medicine, I hoped to gain the knowledge necessary to reshuffle this deck: to provide evidence-based treatments that help patients overcome their substance use and start living again."
Beyond clinical care, Dr. Grant is enthusiastic about community education and reducing the stigma associated with substance use disorders. He aims to empower his CODAC colleagues and members of the greater Tucson medical community to continue to play an active role in treating substance use disorders.
"In considering where I would work upon completion of my training, there was no doubt that CODAC is where I wanted to be," said Dr. Grant. "There are few clinics in the country that go to the lengths CODAC does in serving their patients. It is a privilege to join this team."
Dr. Grant's dedication to health has extended globally where he has made a significant impact. As a Global Health Fellow and clinic coordinator at Centro Medico Susan Hou in Palacios, Bolivia, he oversaw the care of thousands of patients, raised funds for critical medical equipment, and initiated cross-cultural collaborations in ultrasonographic imaging. He also played a pivotal role in organizing a surgery campaign and various health campaigns in multiple Bolivian communities.
Dr. Grant's commitment to community service is evident in his involvement with various organizations worldwide, such as Elica Healthcare, Jesuit Volunteer Corps, and Catholic Worker Free Clinic, where he provided essential care in underserved communities.
Beyond his medical pursuits, Dr. Grant is a runner, and he is passionate about the Spanish language and the outdoors.
"We are thrilled to welcome Dr. Grant to our organization and believe that his expertise and dedication aligns seamlessly with our mission to provide compassionate, evidence-based care to support individuals in recovery," said Larry Oñate, MD, Medical Director, Medication Assisted Treatment.