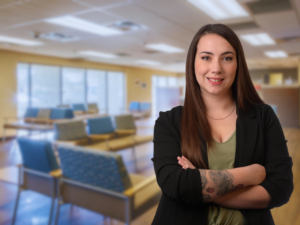 Addiction to opioids is a dangerous game of chance. But against all odds, Alisha "AJ" H. emerged from the control of opioids to rediscover a life filled with purpose and hope.
"Using was like Russian roulette because fentanyl was my drug of choice," said AJ, who overdosed seven times on the drug. Fentanyl is a synthetic opioid that is up to 50 times stronger than heroin and 100 times stronger than morphine. It is a major contributor to fatal overdoses in the U.S., according to the Centers for Disease Control and Prevention.
"I was very much gambling with my life."
 
The Depths of Addiction
Growing up in Missouri, AJ experienced sexual abuse and trauma. Her relationship with substance use began at 18 years old, the night she got married. Her new husband introduced her to heroin, and it was then that she felt all her emotional pain go numb. 
"It was a coping mechanism…I didn't have to deal with reality anymore," AJ said.  
Soon after, she would sell anything she could and spent her money – up to $1,500 a day – to use whatever drugs she could get her hands on.
"I lived in an awful trailer with no furniture, just a rug on the floor and a barstool at the kitchen counter. [Addiction] took me to some low parts of life," she said.  
AJ was barely sleeping and hardly eating. 
After eight years of using meth, heroin and eventually fentanyl, AJ reached a pivotal moment of realization when she started dating someone new.
"He came into my life and told me that I was worth being alive. That was important to me, to have someone validate my existence." 
The Turning Point
Determined to reclaim her life and motivated by the desire to be there for her partner, AJ made the courageous decision to seek help. At a mere 86 pounds, she went to CODAC. 
When AJ arrived at CODAC's 24/7 outpatient substance use treatment center, she was very sick with the symptoms of withdrawal.  
"They made it very comfortable for me even though I was in very bad spot in my life," she admits. 
AJ pushed past the discomfort and began the slow and difficult, but worthwhile journey of recovery. She shares that the process wasn't easy and, at times, she admits to being difficult to work with.
"I am so happy they were patient with me," she said, referring to her treatment team at CODAC who supported AJ with attainable goals and motivated her to relearn living skills like taking her medication, drinking water and sleeping. 
"I don't know where I would be if you guys had given up on me." 
Relearning Life
AJ had to rebuild her life from scratch, replacing addiction with healthier habits and coping mechanisms. "I was relearning how to do real life." 
She participated in an intensive program that consisted of medication-assisted treatment, therapy and case management. 
The support of her mother, new healthy friendships and the guidance of her team at CODAC played instrumental roles in AJ's transformation. 
AJ began to experience gratitude and pride in new things: a working washer and dryer, a paid-off car, air-conditioning and the ability to buy groceries. Each milestone in her social, physical and mental health served as a reminder of how far she had come. 
Even though there were times she wanted to close her treatment with CODAC, she persisted. Within two years, AJ was able to stop medication-assisted treatment because of her positive stability in recovery. 
"I have such a sense of pride that I did something that was hard," she said.  
A New Future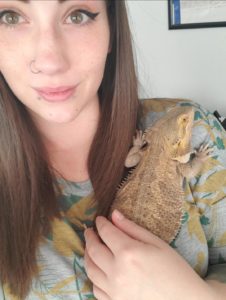 Today, AJ uses her experience to support others. She now works at CODAC where she shares the compassion and support she received at CODAC with others in the community.
"I love CODAC. I would fight for you guys every day of the week because I wouldn't be where I am without CODAC. My heart is here. This was my goal to work here because you did such a good job helping me, so I want to spread that to other people."
AJ plans to pursue nursing school and dreams of becoming a nurse at the very facility that played a pivotal role in her own recovery. Her triumph over adversity serves as an inspiration to those still struggling, reminding us that hope and healing are always within reach.