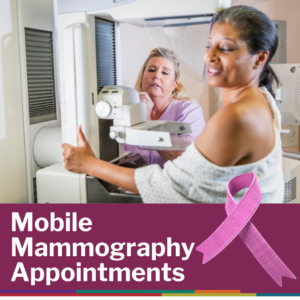 In partnership with Mobile On-site Mammography (MOM), CODAC will offer 3D mammography screenings to members and staff on October 11, 2023.
Aside from some forms of skin cancer, breast cancer is the most common cancer among American women, regardless of race or ethnicity.
Screening can improve outcomes: Early detection reduces the risk of dying from breast cancer and can lead to a greater range of treatment options.
Mammograms are recommended for women ages 40-74 every 2 years, or earlier with a family history of breast cancer.
Screening date:
October 11, 2023 | 8AM – 5PM | 1075 E. Ft. Lowell Rd., Tucson, AZ
CODAC members who complete their mammogram screening will receive a $15 gift card.
To schedule your appointment, please call (520) 327-4505.
Insurance accepted: Arizona Complete Health, Banner University Family, United Healthcare Community Plan, and many more.