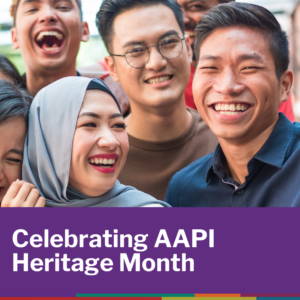 This May, we celebrate the culture, tradition, and history of Asian Americans and Pacific Islanders in the United States during Asian American and Pacific Islander (AAPI) Heritage Month.
May was selected as it symbolizes the migration of the first immigrants from Japan to the United States in May of 1843. May also recognizes the significant contributions of Chinese workers to the transcontinental railroad, which was completed in May of 1869.
This month is an opportunity to pay homage to the deep histories and cultures within AAPI communities, and to celebrate the community's resilience and perseverance.
Asian Americans and Pacific Islanders have made significant contributions to culture and society. In 2021, Kamala Harris became the first Asian American Vice President of the United States. AAPI are one of the fastest growing ethnic groups in the United States. May celebrates the unique journey of all AAPI immigrants and citizens in the United States and their unique life experiences, traditions and cultures.
The following is a list of commonly used AAPI-related terms. These terms are commonly used, though it is important to note that there is a possibility that some cultural identities can overlap in this larger classification of AAPI individuals.
AAPI: Asian American and Pacific Islander. This term generally includes all people of Asian, Asian American or Pacific Islander descent.
Asian: A person having origins in any of the original peoples of the Far East, Southeast Asia or the Indian subcontinent.
East Asian: A person of Chinese, Taiwanese, Japanese, Korean and Mongolian descent.
South Asian: A person of Indian, Bangladesh, Sri Lankan, Nepal and Pakistani backgrounds.
Southeast Asian: A person of Filipino, Cambodian, Vietnamese, Lao, Indonesian, Thai or Singaporean descent.
Central Asian: A person with origins in the original peoples of Kazakhstan, Kyrgyz Republic, Tajikistan, Turkmenistan and Uzbekistan.
Pacific Islander: A person with origins in the original peoples of Polynesia, Micronesia and Melanesia.
West Asian: A person with origins in the original peoples of Armenia, Azerbaijan, Bahrain, Cyprus, Georgia, Iraq, Israel, Jordan, Kuwait, Lebanon, Oman, Palestine, Qatar, Saudi Arabia, Syria, Turkey, United Arab Emirates and Yemen.
There are so many ways to celebrate AAPI Heritage Month. You can take time to learn more about the history, struggles and accomplishments of AAPI communities through reading books available for free from the Pima County Public Library, watching documentaries or celebrating the many rich cultural contributions of this community.
The Tucson Chinese Cultural Center will be holding a free event Saturday May 13th from 11:30 AM to 2:30 PM at the Tucson Mall; details here.
References:
Asian American and Pacific Islander Heritage Month – Origins, Themes & Populations | HISTORY
Asian Pacific American Heritage Month 2023 (asianpacificheritage.gov)
https://www.pbs.org/video/growing-up-asian-m0zprf/
https://asianpacificheritage.gov/about/
Why Asian Pacific American Heritage is celebrated in May : NPR
This post was written by CODAC's DEI Committee.