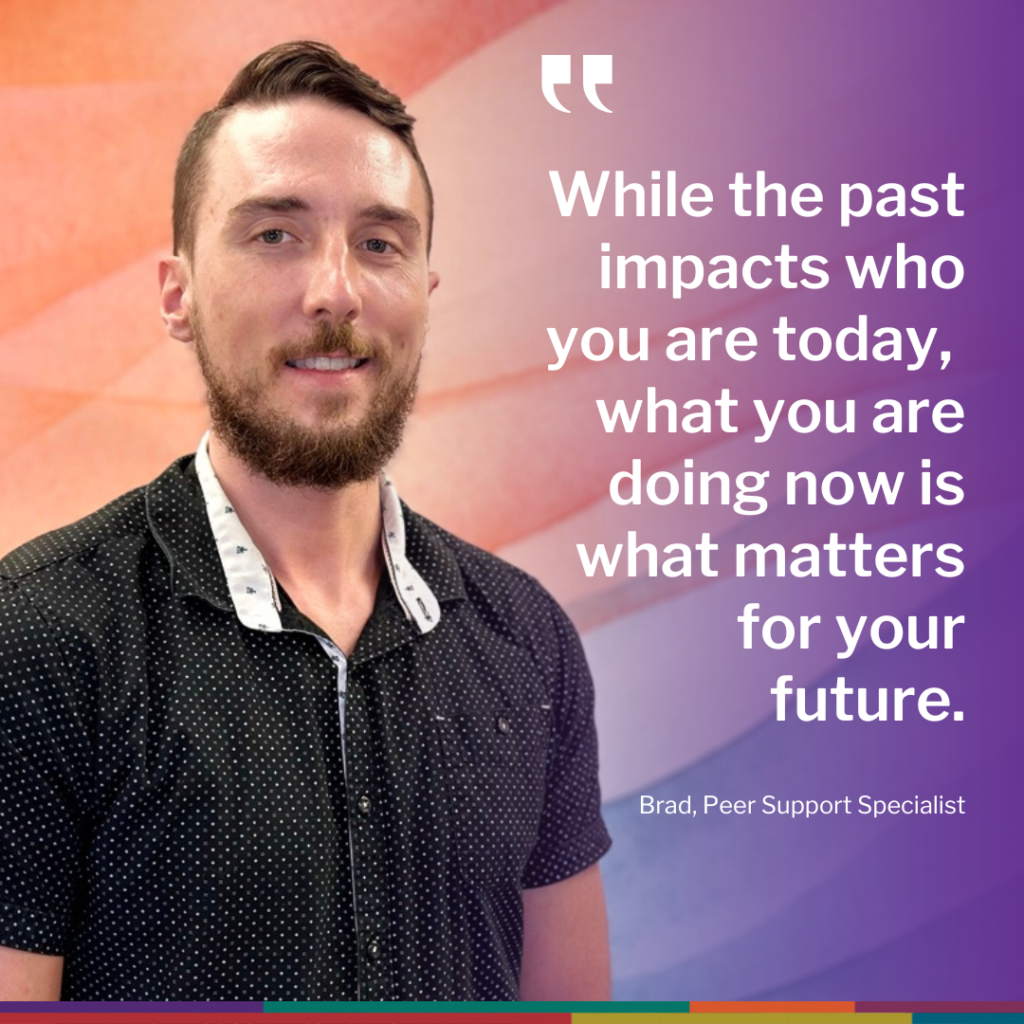 Brad C. had used drugs since the age of 14. For years, he felt that his addiction was manageable until the pandemic hit, and his drug use increased to include benzodiazepines and stimulants.
"Without anywhere to turn, I slid further into using to the point where I could no longer maintain employment or my wellbeing," he said.
Brad was new to Tucson and wasn't sure how or where to begin navigating recovery until he was connected to CODAC.
He moved into CODAC's 20th Street transitional living program for men in recovery from substance use. And, he began participating in an intensive outpatient treatment program for nine hours of treatment a week at CODAC.
That's when Brad began thinking about his future.
Brad's girlfriend encouraged him to pursue a career in peer support. Just ten months after completing the transitional living program, he began the steps towards certification to work as a peer in recovery.
"Seeing the work that staff do here and engaging in services planted the idea in my head that I could do something similar," he said.
The following questions and answers highlight Brad's unique role as a peer support specialist at CODAC.
As a peer support specialist, you play a crucial role in helping others in their recovery journey. How do you approach providing support and fostering a safe, non-judgmental environment? 
I try to do this by relating to members on a personal basis. I think relating to members in terms of overcoming similar difficulties and barriers to success is what allows members to feel most comfortable when working with me. 
Recovery is a unique and individualized experience. How do you tailor your support to meet the diverse needs and goals of the individuals you work with?
I tailor my support by reminding members in every situation that peer support is a member-driven service. Whenever I suggest resources or support services to a member, I remind them that it is ultimately their choice. I make sure to encourage open and honest responses. 
What do you find most rewarding about being a peer support specialist, and how do you handle any potential challenges that come with the role?
Most rewarding is the ability to help others reach their recovery goals while sharing my own experience and avoiding the same pitfalls that I experienced. Even the emotionally draining experiences are rewarding in that I get to see how much of an impact I am lucky to have in others' lives. I deal with challenges of the role by relying on my wonderful coworkers and by making sure to make time for self-care on a daily basis.
Peer support plays a significant role in reducing stigma surrounding mental health and substance use disorders. How do you contribute to breaking down these barriers and promoting understanding in both your professional and personal life?
I try to be open and honest about my struggles and what I have done to overcome these challenges. Of course, there's a time and a place for everything but I think of life in terms of community and try to do my best to improve the community we share. 
What advice would you give to someone who is just starting their journey to become a peer support specialist?
The most helpful advice that I ever received, and that has served me well in every aspect of my private and professional life, is to not be afraid of failure or embarrassment. I embarrass myself all the time, but I try to seek out criticism and always thank people for showing me a better way to do things. 
Can you share a particularly impactful or heartwarming experience where you felt your support made a significant difference in someone's recovery journey?
When I first started, I began to build my caseload by calling members who had been assigned to peer support but had not yet engaged in services. One of my favorite members, an elderly woman with whom I've worked extensively on finding ways to overcome depression and isolation, asked me at the end of a meeting one day how I came to reach out to her. When I explained, she responded that "God must have connected us." 
How do you collaborate with other professionals to ensure the best outcomes for the members you serve?
I try to be as thorough as possible in documenting my encounters with members. Members get the best outcomes when all levels of an integrated care facility work together as well as possible. So, I try to do my part in helping members communicate their needs.
Recovery is an ongoing process, and setbacks happen. How do you help people navigate and cope with setbacks while maintaining hope?
I like to remind members, in broad strokes, that while the past impacts who they are today, what they are doing now is what matters for the future.
What message of encouragement would you give to others who may be facing their own challenges in recovery?
I would say to them that their challenges are real and that their perseverance is a credit to their character. The most important step that a person can take is not the first one, it's always the next step.
If you or someone you know is interested in becoming certified as a peer support specialist, CODAC offers training and support. Contact us at training@codac.org to learn more.