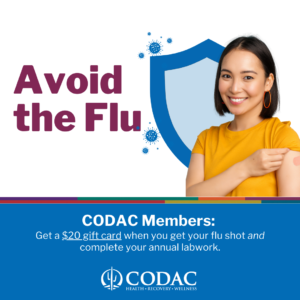 Flu season is just around the corner. It's that time of year when coughs, sneezes and runny noses seem to be everywhere. But there's a simple step you can take to protect yourself and those around you: getting your annual flu shot.
Here are some compelling reasons why you should prioritize getting your flu shot this year:
Protect Yourself and Your Loved Ones: The flu is not just a common cold; it can lead to serious health problems, especially for children, seniors and individuals with underlying medical conditions.
Prevent Community Spread: Getting vaccinated isn't just about personal protection. When you get your flu shot, you help to prevent the spread of the virus in your community.
Flu Shots Are Safe and Effective: Flu vaccines are tested and proven to be safe and effective in preventing the flu. While they might not prevent every case of the flu, they can reduce symptoms if you do get sick after vaccination.
Avoid Co-Infections: It's important to remember that getting a flu shot can help prevent co-infections of flu and COVID-19. Protecting yourself from both viruses is a step towards protecting your health.
Help Keep Healthcare Resources Available: During flu season, hospitals and clinics can become overwhelmed with patients needing care for flu-related health issues. By getting vaccinated, you play a role in helping to keep healthcare resources available for those who truly need them.
Convenient and Accessible: Flu shots are readily available at CODAC (for members and staff), pharmacies and community clinics. Many locations offer flexible scheduling options to fit your busy lifestyle.
Every Year Matters: The flu virus changes over time. This means that even if you got a flu shot last year, you'll need a new one this year to ensure you're protected against the most current strains.
---
CODAC is offering free flu vaccines to members and staff through the Genoa pharmacy at CODAC's Speedway and Cobblestone locations and at CODAC at 380. Members simply need to visit the front desk to get started.
Flu vaccines are available at:
CODAC at Speedway | 4585 E. Speedway Blvd, Bldg #2
8AM – 5PM (Pharmacy closed from 12PM-1PM)
CODAC at Cobblestone Court | 1075 E. Ft. Lowell Rd.
8AM – 5PM (Pharmacy closed from 12PM-1PM)
CODAC at 380 | 380 E. Ft. Lowell Rd.
6:30AM – 5PM
Members who receive a flu vaccine and complete their annual labwork will receive a $20 gift card.